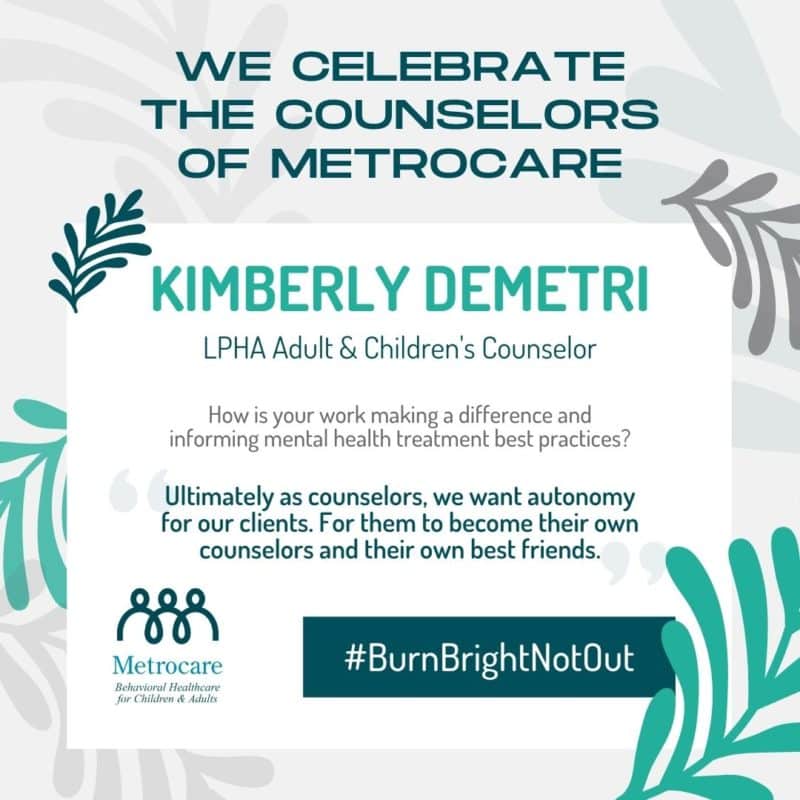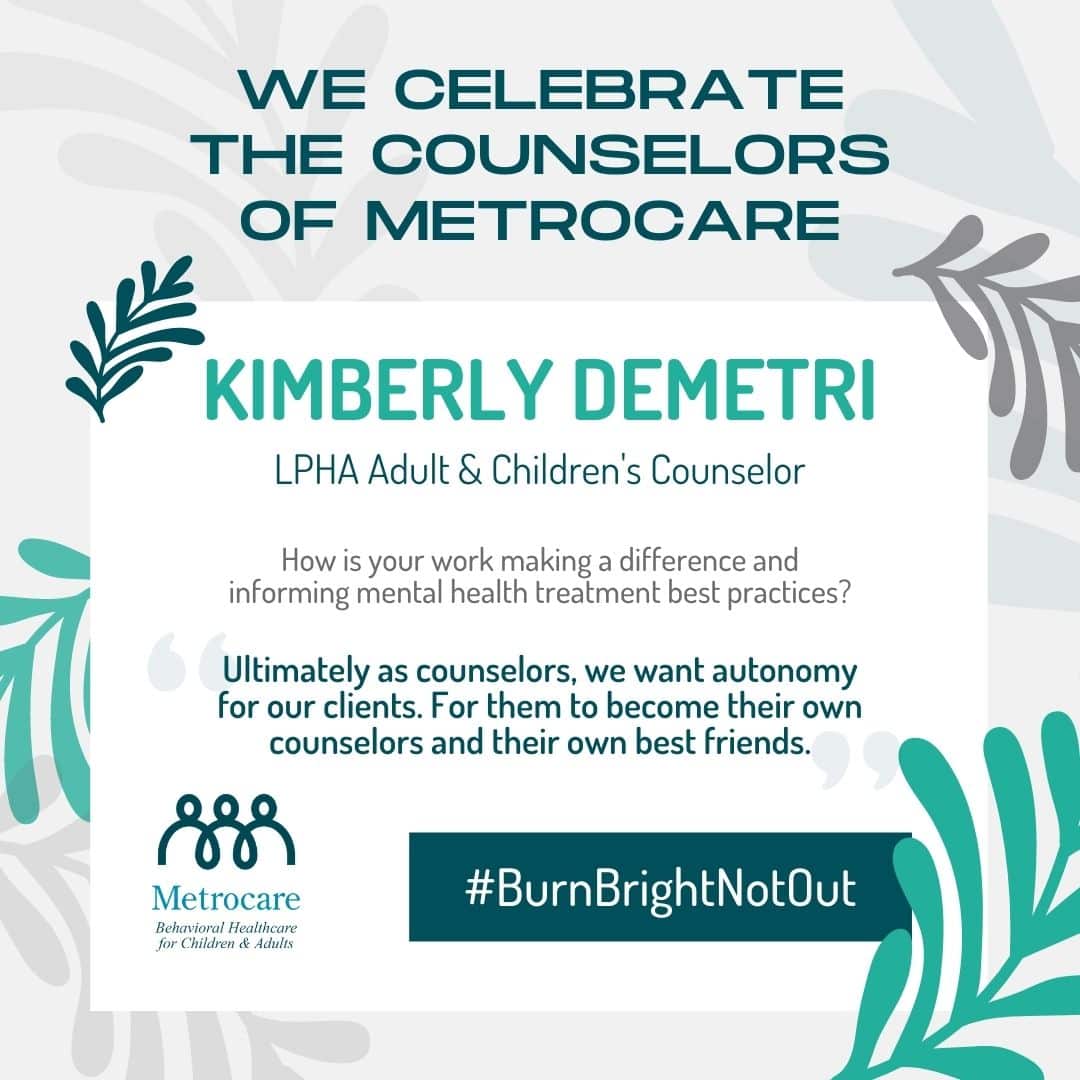 April 06, 2021
Meet Kimberly Demetri
LPHA Adult and Children's Counselor
How many years of service have you had at Metrocare and in the industry?
I am an LPHA Adult and Children's Counselor and have been with Metrocare for 7 years next month. I have been in the Counseling and Psychology field for 13 years now. I am a Licensed Professional Counselor Supervisor and truly enjoy supervising LPC Associates and Interns.
What do you find as the most fulfilling part about being a Counselor?
I find seeing and hearing about life changes and recovery stories most fulfilling.
Why do you choose to work at Metrocare?
I choose to work at Metrocare because of the great people I work with and that we are serving the MOST vulnerable populations through our agency.
Can you share a meaningful experience working with a client?
Today a client called me crying and she was not sure what to do. "If I go to the hospital, everyone will be so disappointed in me. I am afraid that my boyfriend will be gone when I get home." I encouraged her to recognize that she is the only person in her body and in her mind, and that she knows what is best for her. She gave herself an hour, thought it over, and decided that she was alright and did not need to pursue inpatient care.
She spoke with her Nurse Practitioner and Counselor and made herself a list of healthy activities, such as going to the park, writing out her affirmations, doing activities that include healing touch, expressing her needs and wants to her family, and ways to better her self-care.
How is your work making a difference and informing mental health treatment best practices?
My work is making a difference when people call me and tell me what they can do to help themselves. Ultimately as counselors, we want autonomy for our clients. For them to become their own counselors and their own best friends. Best practices include allowing people to make independent choices, as the client I shared about did today.
Tell us more about you!
I am from Garland, Texas where my family were among the original settlers. My great-grandfather was an early Mayor of Garland, and my grandmother was the City Secretary for many years. My favorite hobbies include reading, eating out, and shopping! I also love to travel and spend time with family.
I was inspired to become a counselor by the owner of a Bed and Breakfast in Tyler, Texas where my daughter and I lived. At the time, I coordinated weddings and functions of different kinds. Dr. Don Walker and his wife Patsy encouraged me to go back to college at the University of Texas at Tyler for my Masters in Counseling Psychology.
Sign up for our newsletter