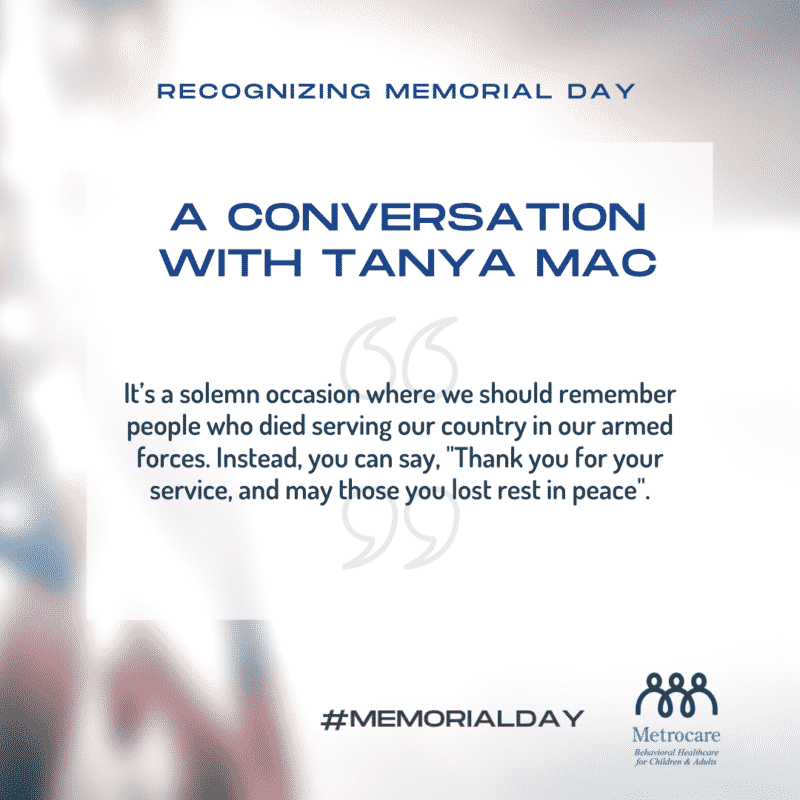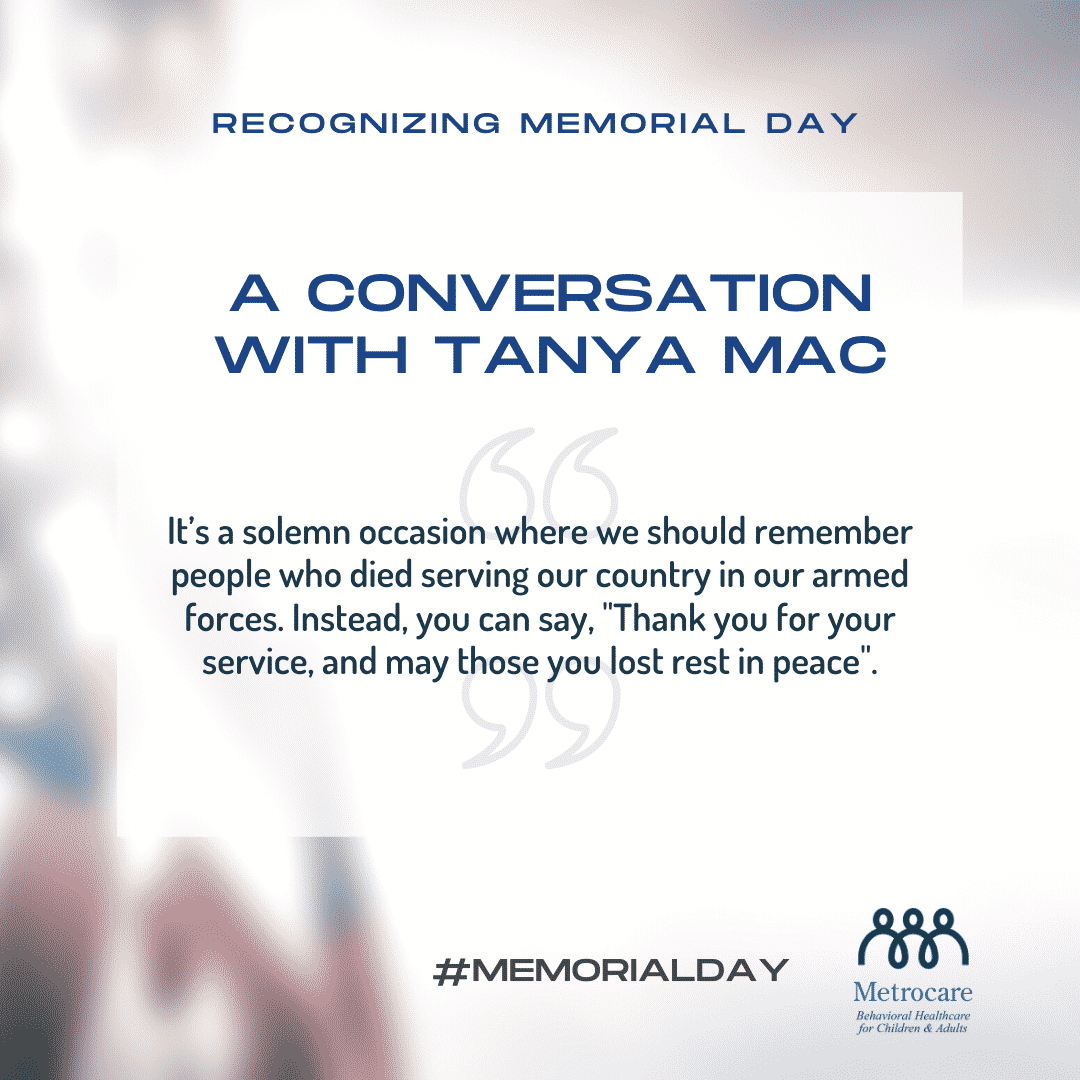 May 31, 2021
Memorial Day: A Conversation with Tanya Mac
Meet Tanya Mac
Outreach Director
What is your role at Metrocare?
My name is Tanya Mac and I am a Marine veteran spouse and I'm the Outreach Director at the Steven A. Cohen Military Family Clinic at Metrocare and a veteran's advocate.
Tell us a little bit about yourself.
I grew up in a patriotic family, with relatives who have served in the military, as well as marrying a Marine Veteran who has been in the veteran nonprofit space for the last decade. Together we have experienced tremendous loss in the veteran community.
What does Memorial Day mean to you?
Memorial Day has always been important to me because of the sacrifices that brave men and women provide for the safety and freedoms of living in the greatest country on earth. Summed up with three core values: duty, honor, country.
Memorial Day isn't just another 3-day weekend, the start of summer, or a time to go party with your friends. Although, I am not saying you shouldn't have a good time and do those things, just be sure to also do something for Memorial Day to honor those who paid the ultimate sacrifice, the true meaning of Memorial Day.
How is Memorial Day different for you as a Veteran?
As a spouse of a veteran, as well as working at the Cohen Clinic at Metrocare for 5 years, I have experienced many ups and downs. I could go on for probably an hour of people that I could mention from families' members in WW2, Korea, and Vietnam, all the way through to friends who have fought and gave up their life on the frontlines during the global war on terror or to the battle they faced here at home after they got out.
I have had the privilege of working and being friends with many veterans and military families. As our relationships grew into friendships, so did my respect and honor of all their stories, battle buddies they have lost, and all those who served and passed on over the years.
How can people best recognize Memorial Day?
There are so many ways to best recognize Memorial Day. However, don't go and thank a veteran…that's Veterans Day FYI. Instead, talk to veterans or active-duty service members. Reach out, ask them about who they may have lost or served with. Care about the people and learn their names, their stories, their service. You can attend Memorial Day activities in your community like Carry The Load or lay flowers and flags at your local veterans' cemetery.
Above all else, please do not say, "Happy Memorial Day". It's a solemn occasion where we should remember people who died serving our country in our armed forces. Instead, you can say, "Thank you for your service, and may those you lost rest in peace".
How does Metrocare work with Steven A. Cohen in assisting veterans and their families?
I know our work at the Cohen Clinic at Metrocare is making a difference in the lives of Veterans and their families. Many Veterans when getting out have lost their sense of purpose and miss the camaraderie they had while serving. It's a huge transition, and hard for not only the new veteran but also the entire family. Roles switch, schedules change, things are just different.
How is your work making a difference in helping Veterans and their families?
A lot of the activities, groups, and workshops I host at the clinic help bring veterans back together. Not only that, our clinicians are amazing! We provide individual therapy, couples counseling, family therapy, and play therapy for children. Whenever one person serves, the entire family is impacted. We know the transition back to civilian life is tough, but luckily our clinic is here to serve those who graciously served us.
I am lucky to work at the Cohen Clinic at Metrocare where I know we are not only saving relationships, and families, but saving lives as well.
Sign up for our newsletter