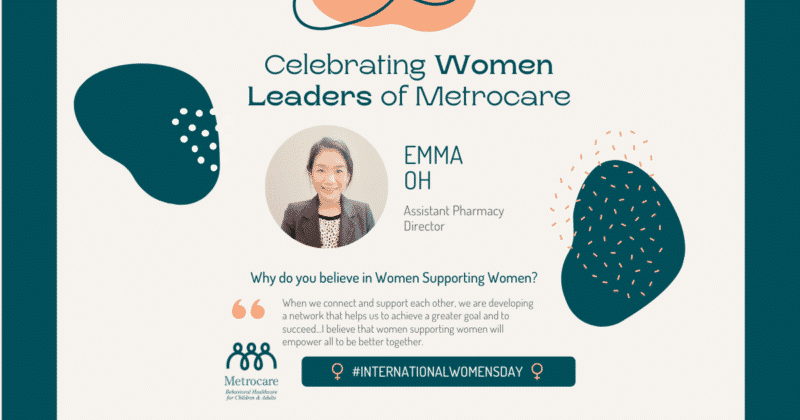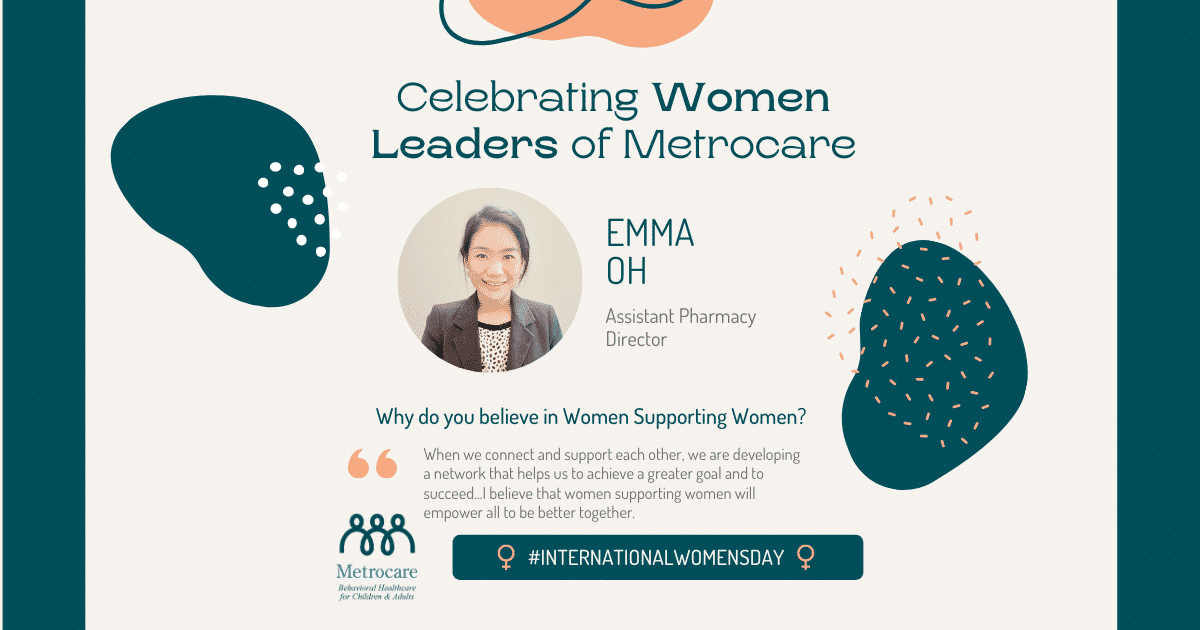 March 11, 2021
Meet Emma Oh
Assistant Pharmacy Director
What is your role at Metrocare?
I am an Assistant Pharmacy Director. I have been with Metrocare for 7 years and in the pharmacy field for over 14 years. At Metrocare, we remain committed to ensuring all of our clients and families have access to medications needed to improve their quality of life. Metrocare has pharmacies located on site at each mental health outpatient clinic across Dallas County.
What is the favorite part of your job?
My favorite part about my job is serving patients in needs. People who come to us seeking help are not just patients; they are someone's family, friend, and colleague. It is a joy to contribute both my leadership skills and clinical knowledge to provide patient care that gives individuals a better quality of life. A bonus: I like wearing many hats. On a typical day, you will find me working on administrative duties at the office or filling prescriptions and consulting with patients.
How would you describe your team and your leadership style?
My team consists of pharmacists who serve as leaders across six Metrocare pharmacies. Our pharmacists ensure the accuracy of prescription and provide clinical knowledge to other providers to optimize patient outcomes. I would describe my leadership style as coaching style.  I recognize my team members' strengths and weakness in order to best facilitate professional development of my team.  I set short-term and long-term goals for team members to motivate them through communication, collaboration, and constructive feedback. This helps me give better guidance so all can accomplish their professional goals.
Why do you believe in Women Supporting Women?
I believe women supporting women is important because women are better when we work collaboratively rather than alone. When we connect and support each other, we are developing a network that helps us achieve a greater goal and to succeed. Personally, when I know I am supported, I feel empowered. It motivates me to work that much harder to strive for success.  I believe that women supporting women will empower us all to be better together.
Sign up for our newsletter