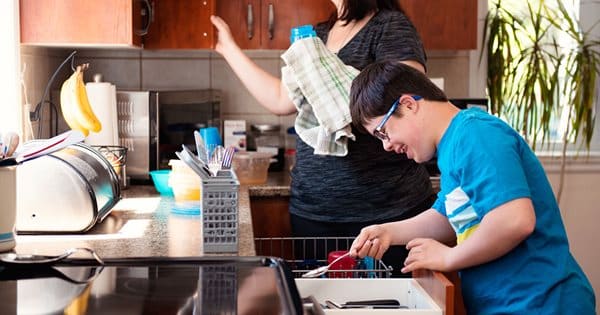 April 02, 2020
Social distancing amid coronavirus pandemic is impacting critical routines for those with autism.
For over 50 years, Metrocare has provided mental health services in North Texas. During this unprecedented time we are aware that families are juggling uncertainties and new routines. Social distancing put in place to limit the spread of coronavirus (COVID-19) has especially changed many aspects of daily life for adults and children with autism. To honor Autism Awareness Month, we developed these tips to provide families and caregivers with resources to re-establish some routine.
Tell them what's happening but don't over focus on the situation
Even if kids don't understand content, they do sense anxiety. Give them information to help them get a sense for what is going on.
Also, be sure to manage your conversations about the numbers or sick and death counts privately. It is not good for any of us to focus on things that are happening that are beyond our control. The experts tell us that as long as we wash our hands, limit our exposure (social distance and shelter at home), we can limit who gets sick. And, most of those who do get sick will recover without even going to the hospital.
Use a social story
Here's one you can print or view on a tablet.
Check our Facebook page for more to come.
Designate work time and break time for everyone
Use a sign to help young kids or anyone with special needs to know when it is okay to talk to mom and dad and when it is "work time." Using the online educational resources can be useful for kids to do "their work" too. (See next tip.)
Download a Work Time card
Download a Break Time card
Manage boredom
It may seem overwhelming to manage your work, the stress of coronavirus and help kids with their own boredom. It is! But, a little research ahead of time can pay off down the road. There are a lot of online resources available that many kids of varying abilities can do on their own. Some paid memberships are now being offered for free in support of the community.
Give choices to avoid power struggles
"We all have to do a chore. Would you like to do dishes or sweep?" Set a timer or make it visually easy to see when the chore is complete. Break up parts of a chore to make it appropriate for the child's developmental level. If they can't unload the dishwasher, you can ask, "Would you like to put up the glasses or the bowls?" Or, you put the laundry in the washer and we can turn it on together. Or, would you like to brush your teeth or bath first. You can also use the choices to vary activities between your child's favorite TV show and a therapeutic or educational activity.
Use a written or visual schedule (related to choice-making)
When the child picks the order of what happens can be empowering. Depending on the developmental level, you can schedule out the next hour or you can schedule for the day. Yes, you could get to the point where your child will balk at that one thing he doesn't want to do. Just say, "No problem. Let me know when you are ready." And wait before the next activity. Leave the room and walk away. When you stick to your guns several times in a row, your son or daughter will understand the routine and you will see less resistance over time. The key is to not talk with him while he is upset. (It's surprisingly hard not to respond to a tantrum! Hang in there.)
Get moving
Incorporate physical activity for the whole family. Make it fun with Wii Dance. Or, PopSugar has released its app for FREE via the Glow app. Make it fun. Have an "I Spy" scavenger hunt on a walk. You could start with a list and then take pictures on your phone as you find the items. Print them at home and your child can keep a journal. Getting out of the house and soaking in some sunshine is added bonus especially since the weather is getting nicer for spring.
Meditate
Yes, the whole family – even with autism. Headspace has a great free 10-day trial that has video preface and is easy to understand for almost any developmental level. You can listen to it for as long as you want (you set the time) and many people repeat it ten-day cycles. 10PercentHappier offers a free six-month membership for healthcare workers. Even if you start with 1 or 2 minutes a day and build up over time, research shows tremendous benefits from reducing anxiety and improving health. Build up to 5 – 10 minutes per day and you still get great results.
Here's a Butterfly Meditation from YouTube.
Cook together
Cooking involves cooperation. If it's something your child likes, can be motivating. It involves math and fine motor skills. And, everyone needs to eat. You can use BoardMaker pictures to visually represent a recipe. Or you can do quick photos on your phone and piece them in order on the counter.
Stay connected
FaceTime family and friends. People with autism may struggle with social cues but they need connection and friendships too. If they like it, build in a FaceTime break as one of the choices or a reward after doing chores.
BONUS: Practice gratitude and positive thinking
As a family at dinner time, make a practice of noting something good that happened in the day. Or, talk about what makes you happy. Or, a favorite memory or favorite food. It's tough to stay cooped up for everyone. Making gratitude a habit can help keep the blues away and refocus us – especially parents who are trying to manage work and kids and autism all at home together. And, it's a great model for all kids.
Sign up for our newsletter